I'm telling you, this tour just keeps getting better and better!
As many of you know, about five months ago we ran a fund-raising campaign with Indiegogo. We raised over $15,000, which we're now using in our outreach efforts to visit cancer centers around the country. At each stop, we're introducing the products to consumers who need them most-patients, caregivers, physicians and nurses, anyone with dry, compromised skin.
In a previous post, I told you about our first stop at the Dana Farber Cancer Institute in Boston, Massachusetts. Today, I'm excited to tell you about our second stop at St. Francis Hospital and Medical Center in Hartford, Connecticut. This time, we sent products and books ahead of time, and when we got there, we found a lot of excited people!
Oncologist Thrilled By Restorative Skin Balm
St. Francis started out in 1897 as a two-room hospital in Hartford's Asylum neighborhood. Today, the hospital has grown into New England's largest Catholic hospital, offering care in women's and children's services, oncology, cardiology, orthopedics, and rehabilitation.
Before we even arrived on October 25th, 2013, we had received a call from Dr. C. Ray, one of the oncologists at St. Francis Mt. Sinai Regional Cancer Center. Dr. Ray let us know that she was blown away by the performance of our products. One of her patients had surgical wounds that just weren't healing. She had tried drugstore ointments and medicated creams, but they weren't working, and some were actually irritating the skin further (the same experience I had with my father when I used department store brands made for "sensitive skin").
The doctor decided to try one of the samples we had sent of the Restorative Skin Balm, and she was amazed at how it helped heal and restore the wound!
"I have been using the Restorative Balm, Calming Moisture and Body Repair Lotion products on my dry, irritated skin," she said, "and they are wonderful. At home and at work, I am constantly washing my hands and consequently, they crack and/or bleed. I have found that the CV Skinlabs products are particularly helpful when my hands are at their worst. Even when the skin is cracked, there is no stinging or burning whatsoever on application. Within three days of the first application, I saw a marked improvement in my dry skin and all of the cracking had healed.
"In addition, when prescription ointments failed to help a child I knew who was undergoing chemotherapy after surgery, I used the Restorative Skin Balm on her incision because her skin was extremely sensitive and fragile. Given that she was still in treatment, she absolutely could not afford any delays or complications related to healing of her wound. The Restorative Balm worked beautifully-it was effective and gentle and she was able to tolerate it when everything else hurt or burned. Now, I recommend this line of products to everyone. The products are all pure and non-toxic. They are soothing to the skin when they are applied and they clearly promote healing."
Spreading Awareness about Toxic Chemicals
As we did at Dana-Farber, we sat down with the oncology and radiology nurses and oncologists and educated them on potentially toxic ingredients in standard skin care products. We told them about the Environmental Working Group's (EWG's) Skin Deep Cosmetics Database and how they rate ingredients according to the studies behind them, and products according to the potential toxicity of their ingredients.
They then create three general categories-low risk (0-2), moderate risk (3-6), and high hazard (7-10), with numbers reflecting each, as shown below: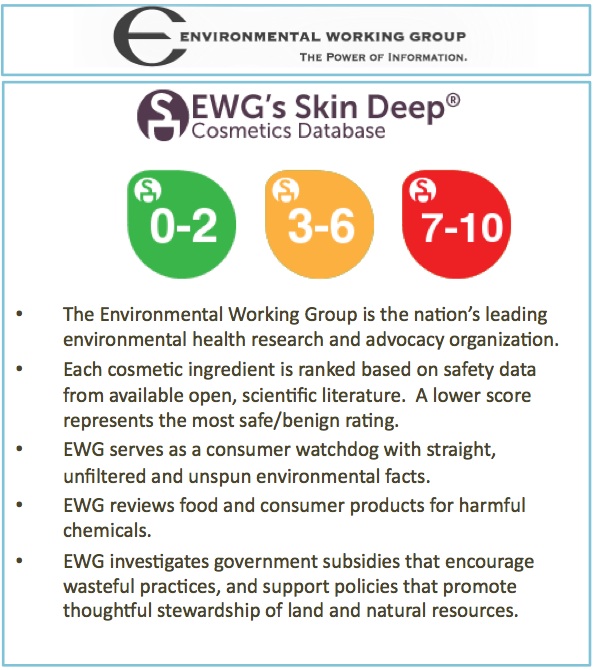 A Quick Comparison
Though I love hearing positive feedback from people who are using our products in the real world, I have to say that I'm not surprised CV Skinlabs is outperforming the competition. One way I tell nurses to compare products is to look at the ingredient decks and to use the toxicity rating from EWG's Skin Deep database.
Consider the following, for example. We've pulled the ingredient list off a product that is commonly recommended by physicians for compromised, wounded, and sensitive skin, and compared it with CV Skinlabs Body Repair Lotion.
Competitive Brand                                                           Body Repair Lotion

Let's take a look at some of the ingredients in the competitor's product.
Notice that seven of them-50%-are in the 3-6 hazard rating group!
Mineral Oil: A petroleum-based ingredient, which is concerning because a) petroleum can be contaminated with carcinogenic impurities, including formaldehyde and polycyclic aromatic hydrocarbons (PAHs); b) the government does not regulate the amount of these contaminants in products; c) these trace contaminants readily penetrate the skin, according to the EWG; d) petroleum-based moisturizers form a seal over skin, preventing moisture loss, but if the skin is already dry or damaged, this sealing effect can prevent other helpful ingredients from penetrating and healing skin; e) this seal can also trap dirt, bacteria, and toxins against the surface of the skin, clogging pores and increasing the risk of acne and blackheads.
PEG-40 Sorbitan Peroleate: A synthetic surfactant that may be contaminated with a carcinogen called "1-4,dioxane."
Glyceryl Lanolate: An ester of glycerin and lanolin acid, may irritate the skin, eyes and lungs.
Propylene Glycol: A small, organic alcohol. Linked with irritant and allergic contact dermatitis at low concentrations of only two percent.
Butylated Hydroxytoluene (BHT): A toluene-based ingredient that may irritate the eyes, skin, and lungs, and is a known human allergen. Animal studies have shown it may be toxic to the lungs and nervous system.
Methylchloroisothiazolinone & Methylisothiazolinone: Widely-used preservatives linked with skin, eye, and lung irritation. Has also been associated with allergic reactions.
Now, let's look at our Body Repair Lotion:
No hazardous ingredients-0%!
Aloe leaf juice: From the aloe vera plant-goes to work right away calming and healing skin.
Triolein: A naturally occurring triglyceride that deeply moisturizes skin.
Caprylic Triglyceride: A form of coconut oil with a unique density that has a super hydrating and plumping effect.
Glycerin: Naturally occurring, colorless, sweet tasting liquid that helps skin hold onto its water content.
A Number of Other Natural Ingredients: You can see the rest of our ingredients-wonderful things for the skin like olive oil, mushroom extract, St. John's wort, bisabolol (from chamomile), and more. These are natural plant ingredients that offer anti-inflammatory, moisturizing, calming, and healing benefits to the skin. The competitor has nothing nourishing like this.
So it's no surprise that our products perform better. They're made with ingredients that are much more biocompatible to skin, that actually nourish and encourage healing, and that contain no harsh chemicals that can lead to dryness, itching, and redness.
Looking Forward to Our Next Stop
Since our presentation, we have already heard back from one of the nurses raving about our Calming Moisture for Face and Neck. The physicians also told us that they would like to have more samples to hand out, so they can introduce patients to a safer alternative.
Our next stop is the Children's Connecticut Medical Center, also in Hartford. Stay tuned for updates!
Have you ever visited the St. Francis Hospital and Medical Center? Let us know about your experience.
Picture courtesy St. Francis Hospital and Medical Center.