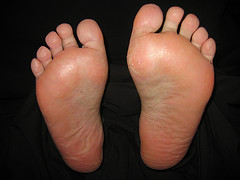 "I finished Chemo Nov 08 but still have the pain in my feet," says survivor Kim.
"I finished chemo in Oct 08," says Kinden, "and still have sore feet….For me it is inside the skin, not really on the outside."
Sore feet can be the result of a side effect called "hand-foot syndrome," or palmar-plantar erythrodysesthesia (PPE). (Read our post on PPE.) Certain types of chemotherapy drugs (like Xeloda, 5FU, Doxil, and more) cause the condition by leaking out of small blood vessels in the palms of the hands and the soles of the feet. The leakage results in redness, tenderness, and sometimes peeling.
The symptoms of PPE can eventually cause swelling of the palms and soles as well, and in severe cases, move into blistering. In these cases treatment may be delayed or drug dosage reduced until symptoms subside. In the meantime, patients should report any discomfort to the doctor as soon as possible (to prevent worsening of symtoms), and ask about possible medications.
There are several things you can do at home to reduce discomfort from PPE. Avoid long exposure to hot water, use ice packs or frozen veggies on the bottoms of feet, try thicker moisturizers like CV Skinlabs Restorative Skin Balm for cracking and peeling, and use over-the-counter pain relievers. Vitamin B6 is reputed to help reduce symptoms (100 mg a day), as is elevating the legs or using compression socks if you have swelling. In addition, avoid pressure on your hands and feet, limit rubbing, and put off hot showers and sun exposure.
Writer and breast-cancer fighter Monique Doyle Spencer recommends henna powder. "If you get a burning feeling in your feet from your therapy, this will cool it," she says. Find the recipe at her blog. Other fighters recommend swabbing the feet with heavy cream, then slipping on soft socks for 30 minutes to an hour, or overnight.
Wear shoes that fit well. Women, especially, need to be more cautious than usual when choosing footwear. We have many styles and fashions that look great, but aren't great for our feet. See a podiatrist if you need to, get some cooling insoles, and choose brands that are well made and well ventilated.
PPE isn't the only cause of cancer-related sore feet. Sometimes, it's caused by nerve damage, or what's known as neuropathy (numbness and tingling caused by chemo drugs). Your doctor may have medications such as Lyrica and Neurontin you can try. Wear shoes with rubber soles to help you avoid falling (if your balance is iffy). The coolness of the "Chillow Pillow" may help you sleep, particularly if you have restless legs and feet. If you can, turn to swimming for exercise so you can get the pressure off your feet. Some studies have shown acupuncture to be beneficial, as well. Jean Lazar, massage therapist and Cinco Vidas expert, strongly recommends massage. A one-hour foot massage has helped many of her patients get back on their feet.
For most patients, foot soreness does eventually go away, but sometimes it can take longer than you'd like. As survivor Phoenix says, "After a year after chemo I thought I was completely better generally, but now I know it wasn't true; it takes a long time and each year that passes you feel a bit better than before."
Do you have recommendations for easing the pain of sore feet? Please let us know.
Photo courtesy of Messa via Flickr.com.