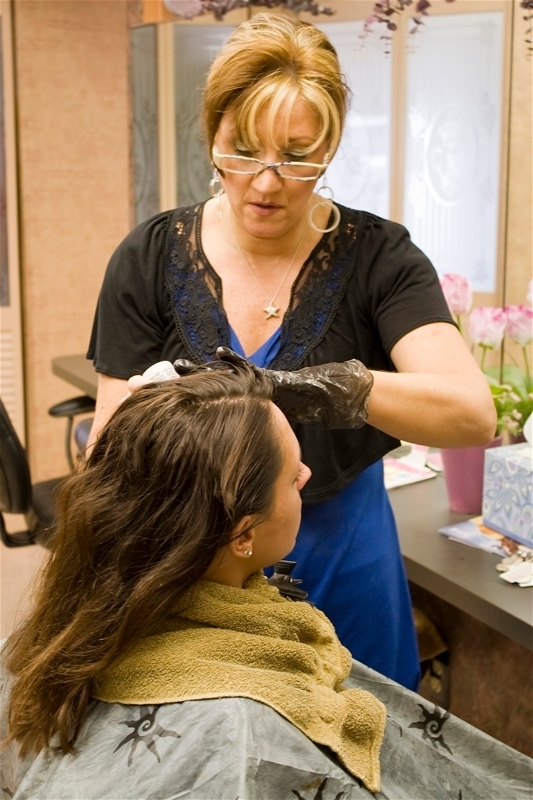 You'd like to look as good as you can during cancer treatments, but can you still dye or perm your strands?
Chemical Treatments Contain Harsh Ingredients
Unfortunately, these process can be particularly unhealthy while you're body is battling cancer. The chemicals in common hair treatments like hair dyes or perm solutions can not only irritate fragile skin and hair, but give off fumes that can cause nausea, eye irritation, and other problems. (Read more here.) Since the scalp is covered with skin, which can absorb what's placed on it-particularly if the product is left there for a period time (like hair dyes)-some of those chemicals could end up in the bloodstream.
Some studies have indicated that prolonged use of extreme hair dyes (black hair dye for over 20 years, for example) may lead to increased rates of cancer in female participants. Other studies have found no such connection. Either way, hair dyes contain potentially harmful chemicals like ammonia; quaternium-15, which can release formaldehyde; and phenylenediamine (PPD), which may be carcinogenic.
It's Best to Avoid It During Treatment
The University of Iowa Hospitals & Clinics explains that cancer fighters with hair loss or breakage from chemotherapy or radiation treatments should "avoid coloring, bleaching or applying perm solutions to their hair at this point." Not only will dying or processing hair expose patients to additional chemicals, but these processes can also weaken the hair shaft or make it fall out at a faster rate.
Even after treatments are over, your hair needs sufficient time to grow back at a healthy rate before undergoing aesthetic treatments. The majority of stylists and doctors suggest waiting until hair is at least 3″ long-or 6 months after treatment ends-before attempting to perm or color, although many patients experience scalp sensitivity and pain for up to a year after treatment.
Carolyn Vachani, a nurse educator, adds, "As the hair grows back after therapy, it is often more fine-almost like a baby's hair-and thus probably will not handle the stress too well." She advises waiting until the hair has returned to its previous fullness and health (not necessarily length) before applying processing agents, and researching the most natural options available.
Seeking Safer Products
Though there's no such thing as a completely natural hair dye, you can find organic and natural brands that may have fewer potentially harmful chemicals. Brands like Herbatint or Aubrey Organics are some good examples.
In the end, check with your personal physician before applying anything to your scalp or hair during or after cancer treatment, especially if you may be continuing medication or additional procedures. For extra style during treatments, rely on wigs, scarves, and hats. I did, and I found after a time that I loved how they accented my look!
Did you dye your hair during cancer treatments? What did you do to preserve hair health, or what kind of natural brands have you tried? Please share!
Photo courtesy of Snap Village.